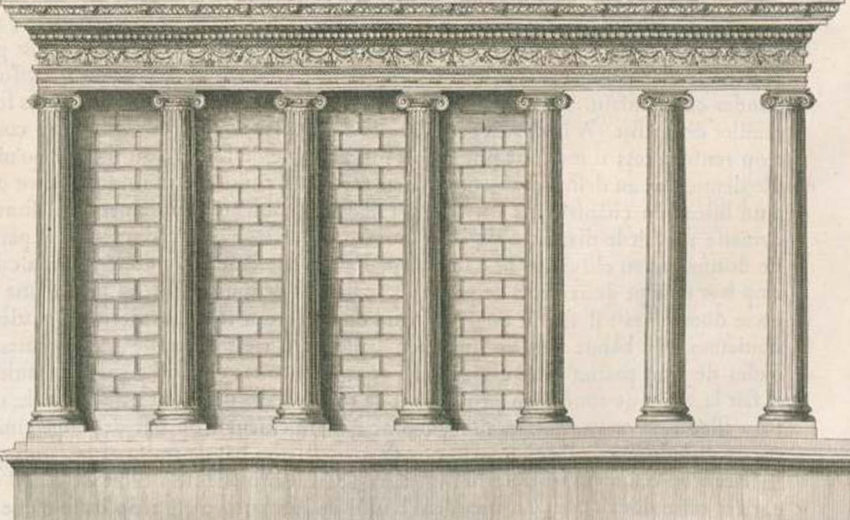 Desgodetz, Les édifices antiques de Rome
Antoine Desgodets (Desgodetz) (1653-1728), professeur à l'Académie royale d'architecture de 1719 à 1728 après François Blondel (1671-1686) et Philippe de La Hire (1686-1718), est passé à la postérité pour son ouvrage d'archéologie intitulé Les edifices antiques de Rome mesurés et dessinés très exactement, publié à Paris en 1682 par Jean-Baptiste Coignard. « Imprimeur du Roi » et de l'Académie française (actif de 1658 à 1689), Coignard avait publié neuf ans auparavant, en 1673, la traduction et les commentaires de Claude Perrault sur les Dix livres d'architecture de Vitruve et publiera en 1685 la traduction de Charles-Augustin d'Aviler du sixième livre de L'idea universale dell'architettura de Vincenzo Scamozzi (Venise, 1615). La splendide édition in-folio des Édifices antiques de Rome contient 138 planches de plans, coupes et détails de vingt-cinq monuments antiques de Rome gravés d'après les dessins d'Antoine Desgodets par Louis de Chastillon, Simon de La Boissière, Nicolas Bonnard, Nicolas Guérard, Daniel Marot, Georges Tournier, Jean-Baptiste Broebes, ainsi que par Jacques et Pierre Le Pautre, la plupart graveurs du Roi. Après une courte description, l'auteur note, lorsqu'il y a lieu, les divergences avec le texte de Vitruve et dresse la liste des erreurs de mesures des ouvrages antérieurs de Sebastiano Serlio, d'Andrea Palladio, d'Antonio Labacco et de Roland Fréart de Chambray. Desgodets s'appuie sur ses propres relevés des monuments antiques mesurés avec une précision scientifique et enregistrés à la fraction de pouce près lesquels sont connus par un manuscrit préparatoire récemment publié (ms. 2718, Bibliothèque de l'Institut de France ; Cellauro/Richaud 2008). Dans cette entreprise, Desgodets a bénéficié du mécénat actif de Jean-Baptiste Colbert, surintendant des bâtiments du Roi, comme le prouve la subvention officielle de 2000 livres accordée pour cette publication.
Les Edifices antiques devinrent une référence jusqu'au XIXe siècle. Par son attention à la précision des mesures, le livre constitua après 1750 un modèle pour les publications des expéditions archéologiques et plus spécialement celles de James Stuart et Nicholas Revett à Athènes. Il fut réédité à Paris en 1779 par Claude-Antoine Jombert – qui venait d'acquérir les 138 cuivres originaux des descendants de l'architecte. Il fut traduit en anglais par George Marshall sous le titre The ancient buildings of Rome (Londres, 1771-1795) et en italien sous le titre Gli edifizi antichi di Roma (Rome, 1822-1843).
Download
Desgodetz_Les édifices antiques de Rome.pdf
Desgodetz_Les édifices antiques de Rome.txt
Desgodetz_Les édifices antiques de Rome.html
Desgodetz_Les édifices antiques de Rome.jpg
Desgodetz_Les édifices antiques de Rome.zip