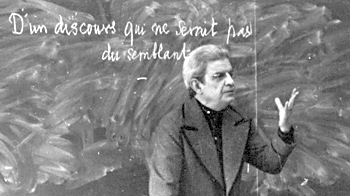 Lacan, The Psychoses Seminars of Jacques Lacan
During the third year of his famous seminar, Jacques Lacan gives a concise definition of psychoanalysis: 'Psychoanalysis should be the science of language inhabited by the subject. From the Freudian point of view man is the subject captured and tortured by language.' Since psychosis is a special but emblematic case of language entrapment, Lacan devotes much of this year to grappling with distinctions between the neuroses and the psychoses. As he compared the two, relationships, symmetries, and contrasts emerge that enable him to erect a structure for psychosis.
Freud's famous case of Daniel Paul Schreber is central to Lacan's analysis. In demonstrating the many ways that the psychotic is `inhabited, possessed by language', Lacan draws upon Schreber's own account of his psychosis and upon Freud's notes on this 'case of paranoia'. The analysis of language is both fascinating and enlightening.
Download
Lacan_The Psychoses Seminars of JL.pdf
Lacan_The Psychoses Seminars of JL.txt
Lacan_The Psychoses Seminars of JL.html
Lacan_The Psychoses Seminars of JL.jpg
Lacan_The Psychoses Seminars of JL.zip