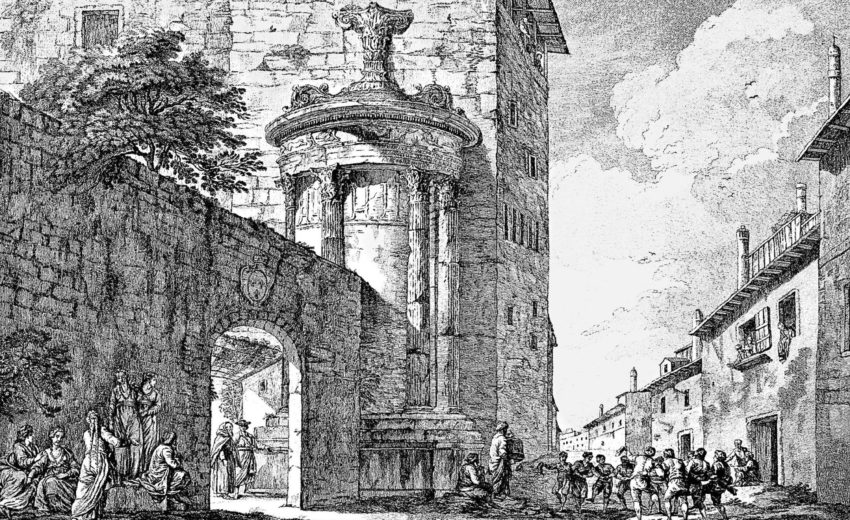 Roy, Les Ruines des plus beaux monuments de la Grèce
J.D. LeRoy, der dritte von vier Söhnen eines Uhrmachers, studierte Architektur. 1755 reiste er nach Griechenland, zwei Jahre nachdem James Stuart und Nicholas Revett (Society of Dilettanti ) aus England abgereist waren. Da sich die Publikation ihrer Reisen verzögerte, bekam LeRoy die Chance seine Arbeiten über den Parthenon und das Erechtheion als erster zu publizieren. Sein Buch hatte großen Erfolg, obwohl Stuart darin Fehler fand. Wenig später wurden Stuarts und Revetts Folie-Bände veröffentlicht. LeRoy besuchte darauf noch Corinth und fertigte vom dortigen Tempel ebenfalls Zeichnungen an. Hier irrte er bei der Zahl der Säulen trotz seiner akkuraten Vermessungen ebendort.
Julien David Le Roy, also Leroy (6 May 1724 in Paris – 28 January 1803 in Paris) was an 18th-century French architect and archaeologist, who engaged in a rivalry with Britons James Stuart and Nicholas Revett over who would publish the first professional description of the Acropolis of Athens since an early 1682 work by Antoine Desgodetz. Le Roy succeeded in printing his Ruins of the Most Beautiful Monuments of Greece four years ahead of Stuart and Revett.
Download
Roy_Les Ruines des plus beaux monuments de la Grèce.pdf