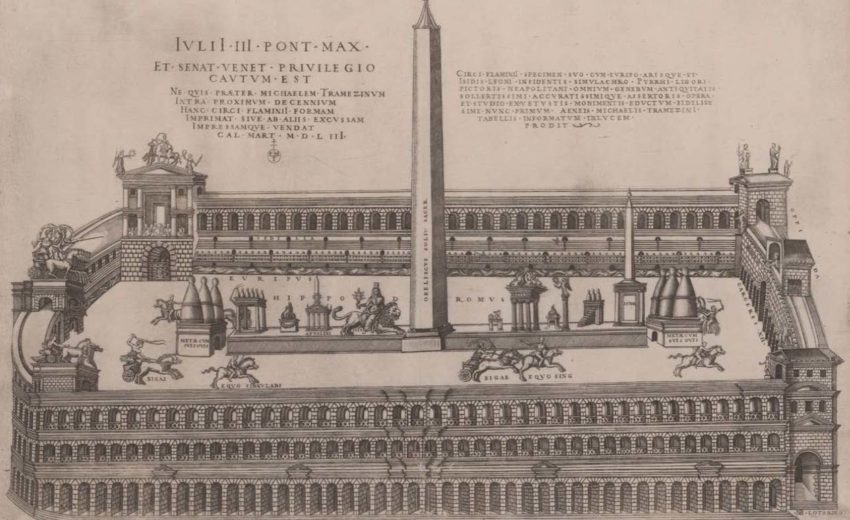 Ligorio, Libro di M. Pyrrho Ligori Napolitano delle antichita di Roma
Libro di M. Pyrrho Ligori Napolitano delle antichità di Roma, nel quale si tratta de' circi, theatri e anfitheatri, con le Paradosse del medesimo auttore, quai confutano la commune opinione
sopra varii luoghi della città di Roma
Pirro Ligorio, the Neapolitan-born painter, architect, and archaeologist-antiquarian (1512/13- 1583), published the only book printed during his lifetime, the Libro di M. Pyrrho Ligori Napolitano delle antichità di Roma, nel quale si tratta de' circi, theatri e anfitheatri, con le Paradosse del medesimo auttore, quai confutano la commune opinione sopra varii luoghi della città di Roma, at the press of Michele Tramezzino in Venice in 1553. The Libro delle antichità is sometimes referred to as the Paradosse. This work, in fact, consists of two parts, a first part, the Antichità, treating ancient monuments in Rome, and a second part, the Para- dosse, containing Ligorio's interpretations of the monuments and his refutations of earlier scholarship:
(1) Libro di Pyrrho Ligori delle antichità di Roma. Ne qual si tratta de i circi, theatri, et amphiteatri d'essa città,
and
(2) Paradosse di Pyrro Ligori Napolitano. Il primo Libro delle antichità di Pyrrho Ligori Napolitano. Nel quale paradossalmente confutà la commune oppinione sopra varii, et diversi luoghi della città di Roma.
Pirro Ligorio was famous for his polemical propensities and for his negative judgements of the work of other antiquarians. At the beginning of the Paradosse, he writes that his contem- poraries proceeded as if they were they blind, stumbling from one "falsa apparenza" to the next ("andando a guisa di ciechi, et quando in una, et quando in un'altra falsa apparenza inciampando"), and thus falling into endless errors, "infiniti, et grandissimi errori".1 Ligorio is astonished by those who consider the Hill of Montecavallo to be the Esquiline, when it is clear from the inscription on the column of Trajan that it is the Quirinal: "Non posso restar di maravigliarmi, che si sia trovato alcuno antiquario così grosso, et mal prattico, che habbia tenuto, che il colle, detto hoggi Montecavallo, sia l'Esquilino: apparendo chiaramente per la inscrittione della colonna Traiana, che ciascun può vedere, che egli è il Quirinale" .
Download
Ligorio_Libro di m Pyrrho Ligori napolitano delle antichità di Roma.pdf
Ligorio_Libro di m Pyrrho Ligori napolitano delle antichità di Roma.txt
Ligorio_Libro di m Pyrrho Ligori napolitano delle antichità di Roma.html
Ligorio_Libro di m Pyrrho Ligori napolitano delle antichità di Roma.jpg
Ligorio_Libro di m Pyrrho Ligori napolitano delle antichità di Roma.zip