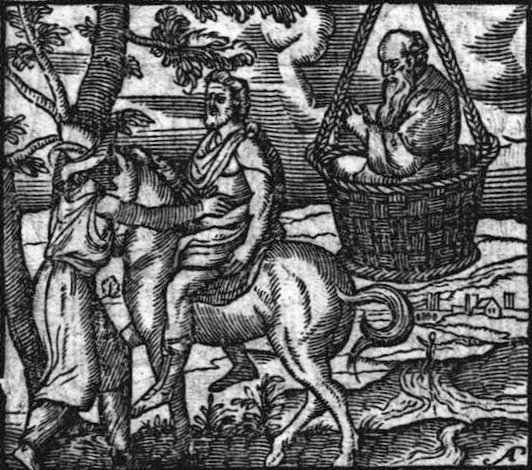 Aristophanes, Clouds
The Clouds (Ancient Greek: Νεφέλαι Nephelai) is a Greek comedy play written by the playwright Aristophanes. A lampooning of intellectual fashions in classical Athens, it was originally produced at the City Dionysia in 423 BC and was not as well received as the author had hoped, coming last of the three plays competing at the festival that year. It was revised between 420 and 417 BC and was thereafter circulated in manuscript form.
No copy of the original production survives, and scholarly analysis indicates that the revised version is an incomplete form of Old Comedy. This incompleteness, however, is not obvious in translations and modern performances.
Retrospectively, The Clouds can be considered the world's first extant "comedy of ideas" and is considered by literary critics to be among the finest examples of the genre. The play also, however, remains notorious for its caricature of Socrates and is mentioned in Plato's Apology as a contributor to the philosopher's trial and execution.
Download
Aristophanes_Clouds.pdf
Aristophanes_Clouds.txt
Aristophanes_Clouds.html
Aristophanes_Clouds.jpg
Aristophanes_Clouds.zip